The course starts in:

The course starts on January 18th., 2021.

00
days
00
hours
00
mins
00
secs
Meet your guides on this tour of more than 100 videos, inputs and exercises; Dr. Louise Tidmand, Master of Positive Psychology Nanna Paarup and Dr. Mette Marie Ledertoug. Press here for a presentation.

We release a module once every week in six weeks, starting on January 18th., 2021.
You have one week to look through the video-lessons before the Q&A and a new week is released.
Learn the 5 ways to prevent your students
from tuning out of class

Does this sound familiar?

Students not learning well




Students tuning out

Students not thriving
Low engagement

Low energy and involvement


Low job-satisfaction
Understand boredom and get hands-on measures and exercises to engage your students once again

 You'll experience that once you engage your class it spirals upward; their learning and their well-being increases and increases and ...
Well-being
Positive emotions and positive relations are KEY to students' well-being.
Learning

Meaning and accomplishment are KEY to learning.
 Engagement
Motivation and involvement are KEY to students' engagement.
"Can we really change teaching in a way that would free children from "waiting for the bell to ring"?
The authors invite us to take an engaging path towards becoming impactful educators, while translating research-findings into daily applications and exercises for various educational settings.
This course is a gem for educators – a resource for ideas, reflections and advice for enhancing engagement, and optimizing well-being and meaningful learning and teaching."
-Shiri Lavy, Ph.D.
The Department for Leadership and Policy in Education, The University of Haifa


Get started today

Joining this course we offer you a set plan to learn to understand boredom
and hands-on actions to battle it

Sign up

Use the below button
to sign up for the course

Join us

From January 18th., 2021 we release a session each week

Attend

Meet up with us in Q&A's regularly during the course

Pricing options
Sign up for the six weeks online video course that starts on January 18th., 2021

Get a FREE calendar with exercises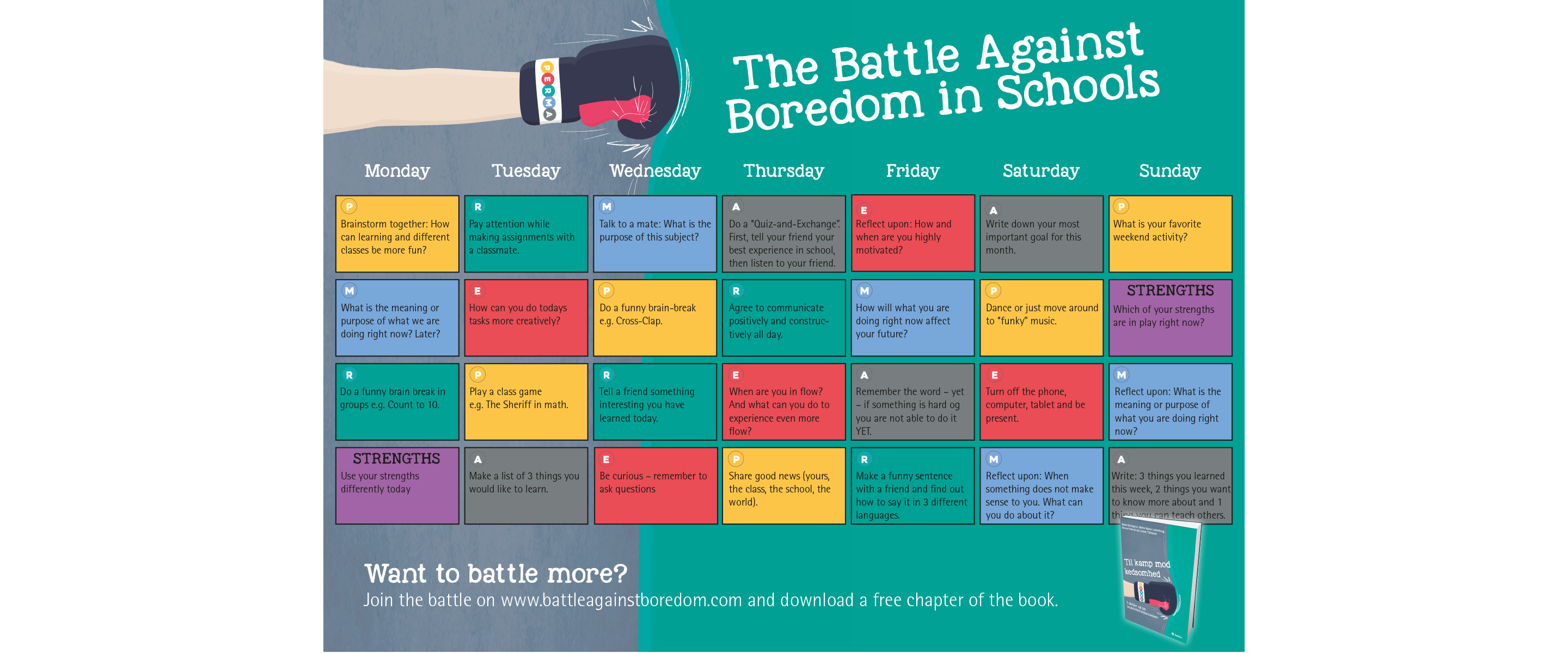 Sign up here for information on the videocourse and we send you a FREE calendar for a month of exercises to engage your students ...

We hate spam too. Unsubscribe at any time.